If you don't know by now, Black Panther is nearly upon us and if you've been keeping tabs on Ungeek, we mentioned that you can catch the film as early as TONIGHT so head on over to your nearest cinemas to witness this epic blockbuster! As Valentines Day fast approaches, you may be looking for a more romantic movie option but hey, we've seen the movie and without spoiling anything for you, here's our 3 reasons why you should definitely make Black Panther your Valentines Day movie!
SICK SOUNDTRACK!
When Kendrick Lamar himself produces the soundtrack to your film, you know that it's going to be one hell of an auditory experience. From the tribal drums beating to an R&B beat, to the epic lead single "All the stars" performed by Mr. Lamar himself, you're sure to be bobbing to the beat all throughout the movie.
With a mostly African setting, the sounds of the movie are what really stand out. They portray the setting well and really make you feel that you are one with the people of Wakanda. Their rituals and cultural habits are one to experience and having music that brings you closer to that experience cannot be overlooked.
Girl Power!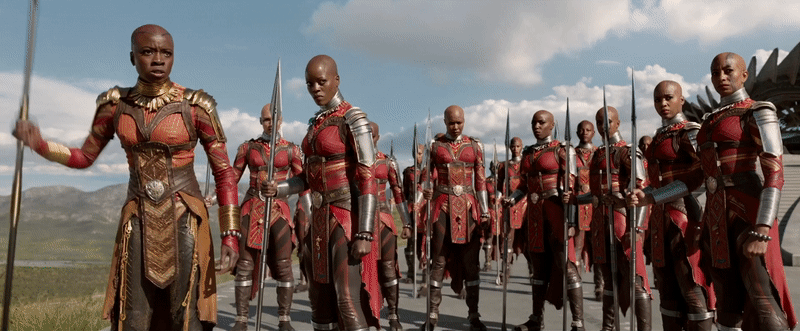 Hey, gentlemen, listen up, Valentines Day is the day to take extra special care of your ladies but if they are as strong and as independent as the Dora Milaje, well then you might just have your hands full. These women are the personal guards of the Black Panther and are very much capable of taking on anyone if a fight breaks out. Okoye, the lead guard, is arguably the strongest warrior in Wakanda and the king himself trusts his life to the safe keeping of the guards.
The Amazonians are not the only force to be reckoned with and the Black Panther truly recognizes and puts these powerful women front and center! Some of the fight scenes in the movie clearly feature these women and you'll be impressed with how the scenes are drawn out. There are no super circus moves from the Dora Milaje and that's exactly what makes them deadly as they portray realistic fights that one can very much appreciate.
A Stellar Cast
Black Panther features highly talented and well-respected individuals which make up the cast of one of the best Marvel movies to date. From the lead actor Chadwick Boseman, the strong heroine in Lupita Nyong'o, to the fierce Michael B. Jordan, these actors have shown that they too can take the lead and bring a movie house to its feet with a standing ovation. The whole cast is a showcase of not just talent, but diversity and respect to everyone!
Black Panther is a MUST WATCH and if you're still arguing what movie to see this Valentines Day, take a chill pill and make it this Marvel Blockbuster that you shouldn't miss! Black Panther opens in Cinemas on February 14!