JoJo's Bizarre Adventure's long awaited sequel is official! Series creator Hirohiko Araki recently announced that the manga's fifth story arc is getting an anime, and it's entitled Ougon no Kaze/Vento Aureo (Golden Wind).
◆特報!!!!!!◆第5部「ジョジョの奇妙な冒険 黄金の風」TVアニメ化決定!!2018年10月放送開始予定!
メインスタッフ&キャラクタービジュアル公開!7/5(木)にはキャスト発表&第1話先行上映イベント「ジャパンプレミア」開催ッ☆☆
詳しくはコチラ→https://t.co/afWuPN2Mkx #jojo_anime #黄金の風 pic.twitter.com/ZgycC0GnDS

— TVアニメ『ジョジョの奇妙な冒険』公式 (@anime_jojo) June 21, 2018
The announcement was made at the end of a Jojo art exhibition press conference. The first key visual of the anime the and it's main characters were also revealed during the announcement. David Productions, the studio behind the first four JoJo installments, will return to produce the Golden Wind.
JoJo's Bizarre Adventure tells the tale of the Joestar family, who are destined to encounter supernatural/Bizzare foes with their unique powers, most notably their nemesis Dio. Vento Aureo (Golden Wind) revolves around Giorno Giovanna who aims to be a powerful "Gang-Star". The series is well known for its crazy character designs, and of course, its villain's expression.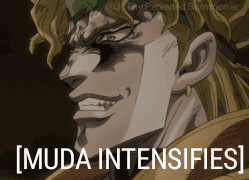 Jojo's Bizarre Adventure: Golden Wind will air this fall 2018.