A little over a week ago, Netflix Philippines invited us to an early Halloween slash Birthday Celebration of Archie Comic's resident teenage witch, Sabrina Spellman. After all, the new show will be airing over at the global streaming giant come October 26.
Netflix PH transformed the entire 20:20/XX-XX bar in Pasong Tamo, Makati into vignettes of eerie locales from the Netflix show.
From rows of gravestones, to richly atmospheric decor, the venue sets the mood perfectly for a night of spooky goodness  as we catch the Pilot episode of another Netflix sure hit.
There are loads of activities sprawled around the area — like a photo booth where you basically pledge your allegiance to your coven OR have your photo taken, high-fashion editorial-style by none other than renowned photographer, Magic Liwanag.
Oh and while you're munching on some fine delicacies and drinking the most tasteful of concoctions, you may bump into the Dark Lord himself (who I mistakenly called "goat-man", apologies my liege).
As we were ushered into the viewing hall — where you pass by the Spellman Mortuary's entrance, you may get a shock or two from the resident corpse lying abound on the slab.
But the most chilling of things have yet to come as we sit and enjoy the hour-long pilot.
Folks who were turned-off from CW's take on Riverdale may actually end up enjoying Sabrina more as the the show, while should be darker and spookier, actually finds more levity than its sprawling teen-drama counterpart. Written and executive produced by Aguirre-Sacasa, Archie Comics' chief creative officer alongside the people responsible for Riverdale, NETFLIX's Sabrina creates a great tension between the mystical (and more colorful) world of magic and that of a normal teenage life.
Sabrina is turning 16, and on the eve of her birthday must undergo a ritual wherein she leaves her mortal life to be part of her more mystic nature. Being born from a human mother and a Warlock father, Sabrina is thrown on a quest of self-discovery of who she really wants to be — and where her allegiance truly lies.
As a Netflix show, Sabrina does not pull any punches in terms of language, gore and yes, slight nudity. But despite all this, the show was able to preserve the fun "camp" nature from its source material. No, Salem doesn't file his nails or looks at you with disdain (okay fine, he's a cat, of course he'll look at you with disdain).
The first episode introduces us to the main characters — Sabrina Spellman (Kiernan Shipka), her love interest Harvey Kinkle (Ross Lynch), her friends Rosalind Walker (Jaz Sinclair) and Susie Putnam (Lachlan Watson) as well as Sabrina's Aunts Zelda (Miranda Otto) and Hilda (Lucy Davis) and superbly charming cousin, Ambrose (Chance Perdomo).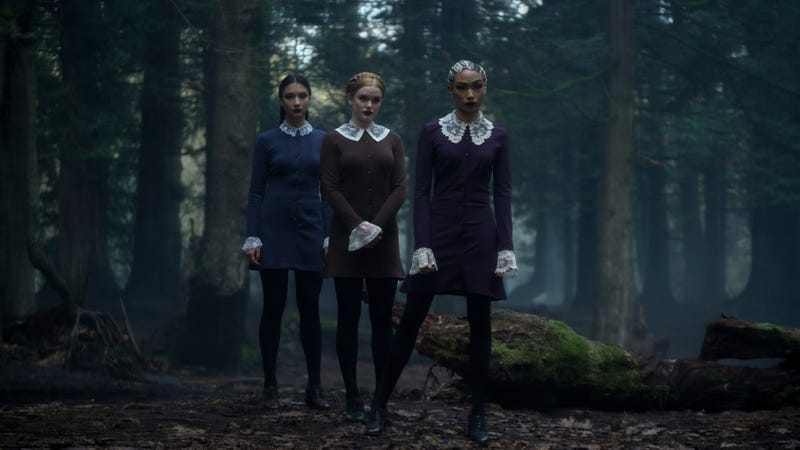 The episode also gives us a glimpse of the world of magic — of Dark Lords, coy witches (with a capital B) and a school for witches and warlocks (yes, think Hogwarts). We're not entirely sure if Sabrina will cross-over with the fine folks from Riverdale but with how Riverdale's 3rd season is shaping up we're definitely hoping something comes of it. Hey, if we're having the Chilling Adventures of Sabrina now, who knows, maybe an After Life with Archie is close by.
Now that is magic we're just dying to see!
Catch the whole 10-episodes of Sabrina only at Netflix this coming October 26, 2018! Have a spooktakular Halloween, y'all!